Thank you to everyone who joined us at the 2018 Blackmagic Design Conference and Expo Tour in Atlanta! This was our first stop on the tour and we had a great time hosting you and getting to know many of you.
Whether you joined us for the full conference, or just for the Expo event, we hope that you had a great experience, made new connections, and built great new skills.
Here are some moments from our time in Atlanta!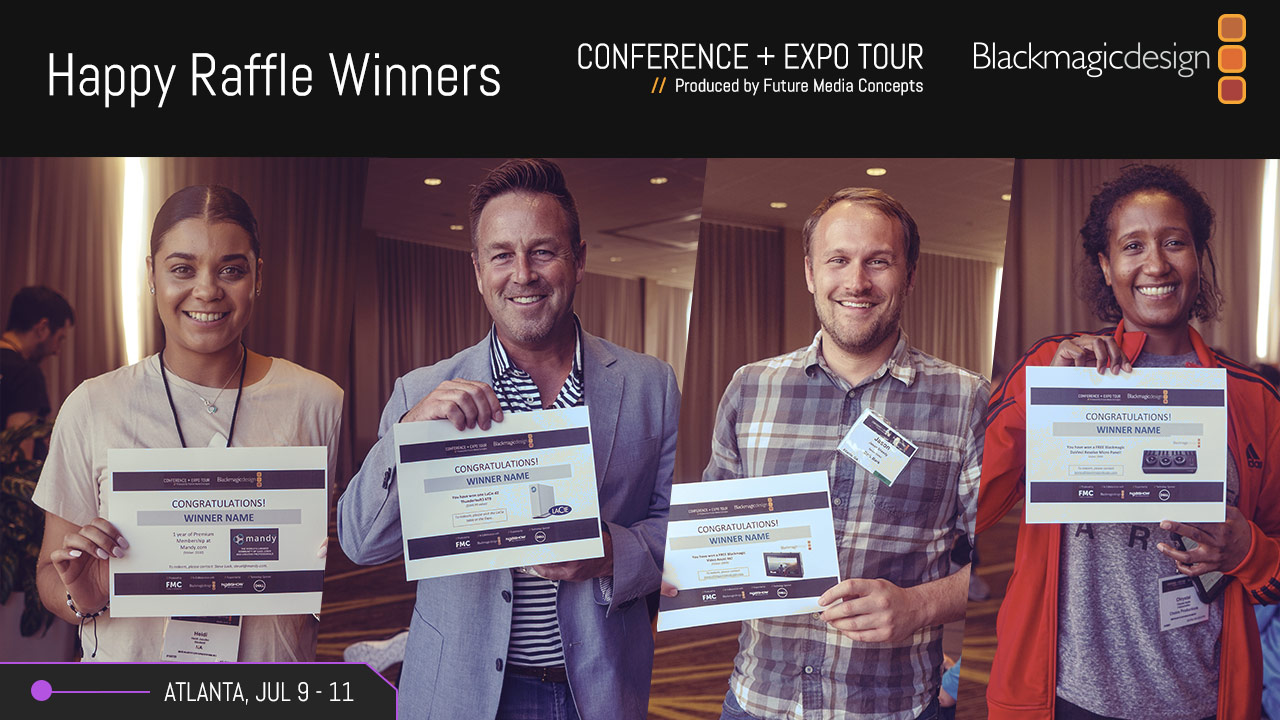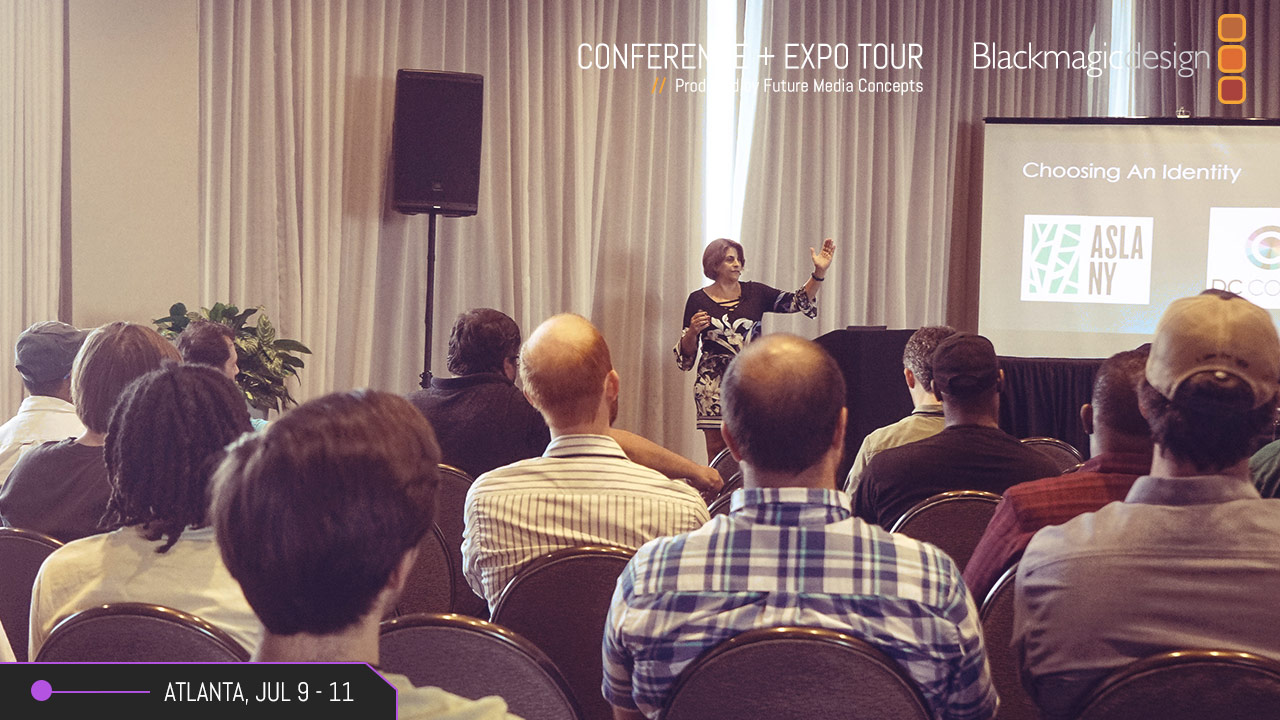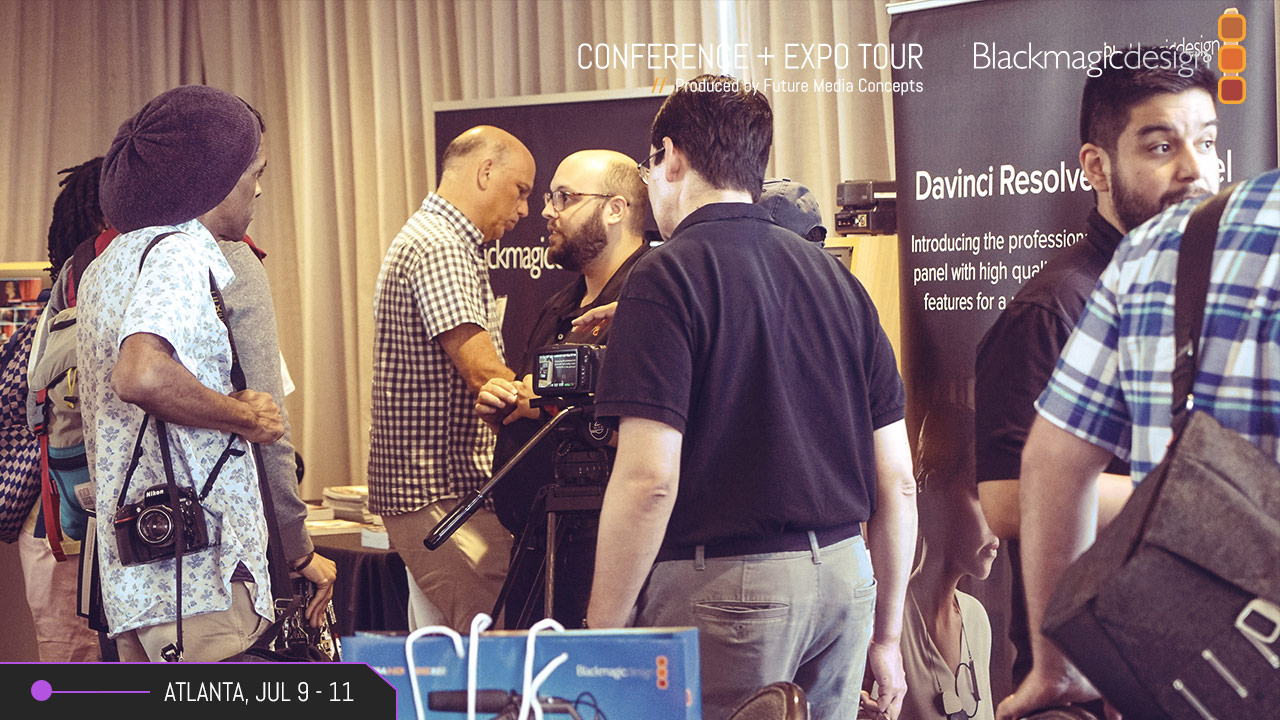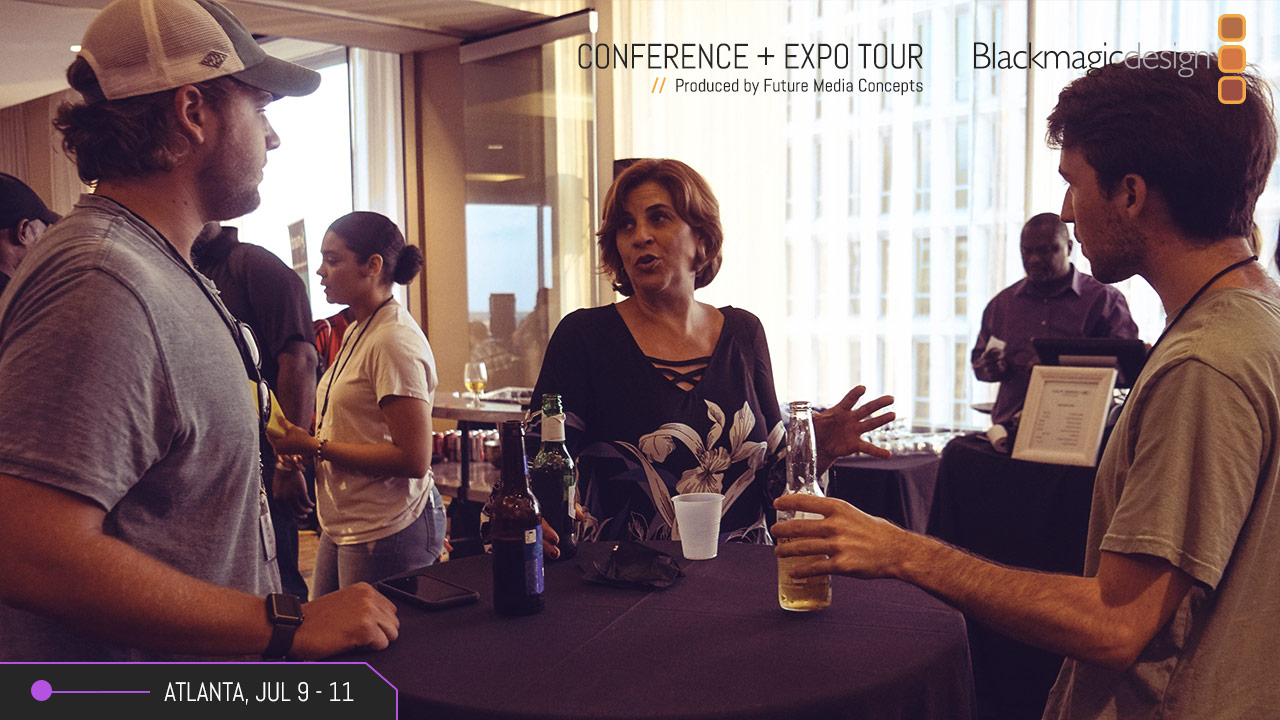 MISSED THE EVENT? HERE'S WHAT WE COVERED:
ORGANIZING SPONSOR
BLACKMAGIC DESIGN
Blackmagic Design creates the world's highest quality video editing products, digital film cameras, color correctors, video converters, video monitoring, routers, live production switchers, disk recorders, waveform monitors and real time film scanners for the feature film, post production and television broadcast industries. Blackmagic Design's DeckLink capture cards launched a revolution in quality and affordability in post production, while the company's Emmy™ award winning DaVinci color correction products have dominated the television and film industry since 1984. Blackmagic Design continues ground breaking innovations including 6G‑SDI and 12G‑SDI products and stereoscopic 3D and Ultra HD workflows. Founded by world leading post production editors and engineers, Blackmagic Design has offices in the USA, UK, Japan, Singapore and Australia. For more information, please go to www.blackmagicdesign.com.
Future Media Concepts (FMC)
FMC is the nation's premier digital media training organization providing manufacturer-authorized training in digital video and film editing, motion graphics, Web design and development, sound design, 3D animation, desktop publishing, architectural and mechanical design, Mac IT, and mobile apps development. FMC provides in-class, on-site, and online training options.
In addition, FMC is a leading producer of education-rich conferences for today's leading electronic entertainment trade shows both in the U.S. and internationally.
FMC is an authorized training partner for Blackmagic Design®, Adobe®, Apple®, Autodesk®, Avid®, Boris FX, and NewTek®.
NAB Show
NAB Show, annually in Las Vegas, is the world's largest convention encompassing The M.E.T. Effect, the convergence of media, entertainment and technology. With 103,000 attendees from 161 countries and 1,800+ exhibitors, NAB Show is the ultimate marketplace for solutions that transcend traditional broadcasting and embrace content delivery to new screens in new ways. From creation to consumption, across multiple platforms and countless nationalities, NAB Show is where global visionaries convene to bring content to life in new and exciting ways.
FLANDERS SCIENTIFIC INC.
Flanders Scientific, Inc. (FSI) is an Atlanta based company offering professional broadcast and post production equipment. We specialize in advanced monitoring solutions and equipment related to display analysis.
Studio Network Solutions
Studio Network Solutions is a leading manufacturer of shared storage hardware and software for creative teams. Since 1998 their products have helped post-production teams of all sizes easily store, share, and organize massive amounts of media.
Mandy.com
Mandy.com, the largest community of cast, crew and creatives in the world, empowers film and television professionals to build successful careers and find work. We connect media content producers with qualified crew, production and post-production professionals through our jobs feed. Visit us on the Expo Floor for a free month of premium membership and enter for a chance to win a full year of premium membership.
G-Technology
G-Technology's roots are deeply ingrained in delivering premium storage solutions for audio/video production, photography and the professional content creation market. From storing, transferring, editing and distributing content, G-Technology makes the workflow simpler, better and faster. G-Technology's high-performance portable and desktop drives, flexible transfer/edit solutions and fast RAID systems are all built for professional content creation environments where performance and reliability are paramount.
X-Rite
Achieving the proper color balance and exposure for video can be challenging. Speed up your color grading workflow by achieving ideal exposure and color balance, whether shooting with one camera or multiples using X-Rite ColorChecker Video, ColorChecker Passport Video, and i1 Display Pro for accurate color and luminance on your editing monitor.
You'll also be one of the first people in the US to see the NEW ColorChecker Video XL, a larger target designed for use in larger venues shooting multiple cameras, reference for matching Drone footage to clips shot on other cameras, and more! If you've got a big problem, there's ColorChecker Video XL .
ColorChecker targets can be selected in DaVinci Resolve for a level of automation to achieve matching to a standard bringing efficiency and consistency to your footage before you start serious color grading. Come by and see us to learn how easy it is simplify your color management saving your time and money.
LaCie
LaCie, the premium brand of Seagate technology, designs world-class storage solutions for photographers, videographers, audio professionals, and other power users. With leading technology, performance, quality, and customer support, LaCie helps you realize your creative vision. We differentiate ourselves with a focus on design, unmatched technical performance, and long-term reliability.
To better understand and serve the needs of our customers, we maintain in-house innovation centers, product-line manufacturing, and technical support. Over the past decade, we have consistently been best-in-class and first-to-market in deploying the latest innovations, from Firewire to USB to Thunderbolt™ technology. All LaCie professional desktop solutions feature durable aluminum enclosures, high-quality hard drives or SSDs, and components that are built to last.
Cubix Corporation
The industry's high-performance standard for PCIe slot expansion systems, and now providing complete Resolve and Fusion hardware solutions.